Our Walt Disney Fairytale Wedding (Series): Wedding Day (Part III)
Now, just as my make up was finishing, Disney Floral arrived with two
large, okay, massive boxes. They loaded them into the room and opened
the top one. I saw the flowers and………the colours were NOTHING like I
imagined.Now I spent A LOT of time organising many, many pictures of what I wanted
and more importantly DID NOT want and when these flowers arrived they
were different.
The colours were completely different shades to what I expected. I just
stood there for a moment smiling, dazed. At first my initial reaction
was the above ~ shock that they were not what I had thought I would get,
but then I actually looked at them. They were perfect. Perfect shades
to match my bridesmaids. Beautiful, big flowers. I was so happy.
I had yet to see my bouquet.
My genuinely shocked face above!
Then they opened the other box and there it was ~ my shield of flowers.
You'll see why I named it "The Shield" in my wedding pictures. It was
the biggest bouquet I had ever seen, it was everything I dreamed of. I
knew that I wanted a large bouquet because of the shape of my dress and the shape of my body, and it was
just enormous. It was fabulous. I thanked
Disney Floral and realised that Misty had turned up with her husband
Nelio whilst the door was open, and she was already snapping away!
So Misty and Nelio padded down the hallway with us after darting around
the corridors as though we were children on Christmas eve along with us
towards my parents' uncluttered, chaos-free room. I had sent ahead the
essential items including my dress with my sister and my mum so I knew
everything was there ready. There was just me in my pyjamas and what
looked like a small entourage behind me.The first shot they decided to take was of my dress. My beautiful
dress. I feel sad now knowing that I won't ever wear it again. It has so many happy memories and magical hopes and wishes all tied up
in the fabric of it. I can remember my mum's face the first time I
tried it on, the feeling I got when I saw that despite the size of me
when I first found it, and how I felt about my body at that point, I still felt like a bride in it instantly. I
recall my dad's face at my final fitting and the smile on his face when I
came out of the changing room and did a twirl. Then I think of the way
I felt slipping into it this very morning, my wedding morning, as I
realised this was the moment I had waited for my whole life. My whole,
entire life.
Anyway…. Here's my dress in all it's window hanging-glory. It's by
Hollywood Dreams and it cost my mother over 3 months' wages. I wanted
to buy it but she was adamant it would be my dad and she who bought
it for me. That's another reason I love it so much. It was a gift of
love from my parents.
The dress makes me smile when I see it hung up because it shows none of
the beauty it has when it's being worn. It looks nothing special and
that was the way it looked to me when I first saw it in the shop.
Nothing special. When I put it on, it came to life. Perhaps that was
why I loved it so instantly ~ it was a real Cinderella dress.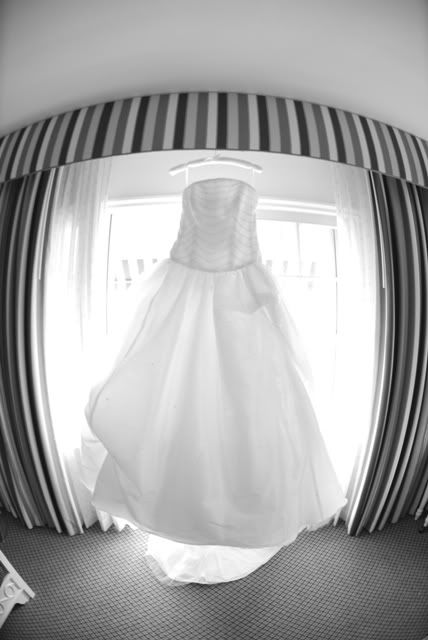 I have to mention that Misty was visibly relieved when she reached my
parents' room as the room I was in was just madness. I also forgot to
say that as I slipped around the corridor in my dressing gown with my
beautiful tiara on, feeling a bit like a fairy, who should we meet in
the corridor, but Jeffrey Stoner, our videographer! I introduced myself in my pyjamas and
we laughed. He came into the room with my sister, parents, Misty and
Nelio!
I asked Jeffrey if there was anything we could do to make his job any
easier and he said to ignore him completely! I felt really awkward but I
did as he said ~ well, I tried to anyway. I dread to think what I look
like on his video but we'll find out at the end of November. I love
Jeffrey's work. He is truly gifted. Plus, he's very sweet too ~ he has
a lovely manner (and he loves the Manic Street Preachers which makes
him even better.)