Our Walt Disney Fairytale Wedding (Series): Wedding Day…Everyone Out!
Eventually we went back inside and it was time. It was time! Time to get married! I felt the adrenaline run through me like ice water and my heart thumped. I was consumed with nervous excitement. This was finally it ~ the moment, the start, the beginning of our fairytale.We had a secret that only our wedding planner knew (as she had to hire it). We had hired Cinderella's Carriage to take us to the ceremony. The carriage would wait out the front of the hotel and everyone else would go out the back.
Now we joked at home so much about having the carriage and people kept saying "oh, you must" but we kept replying that it was just too expensive when we could just walk to the site, and because we were on site at the Yacht Club, everyone accepted that it made sense. When I told them how much it cost and for how long, people seemed to accept even more why there would
be no carriage. So, as far as everyone else knew, we were walking.When it was time, Diane's assistant took everyone out of the Yacht Club
and out into the sunshine to walk towards the gazebo if they were
guests, and through the Yacht Club to be stationed if they were
bridesmaids or parents, ready for the aisle walk. Diane kept me, my dad
and my two nieces back. She said she needed the girls for the flowers.
So as the rest of the bridal party were directed to go out the back of the
Yacht club whilst me, Dad, and my two nieces were held back.
My dad looked at me and my nieces. He
had no idea why we were not going with them too. Diane smiled and said,
"Let's get this show on the road" then winked at my dad.
We started to walk toward the exit after the lobby was emptied of everyone associated with our wedding.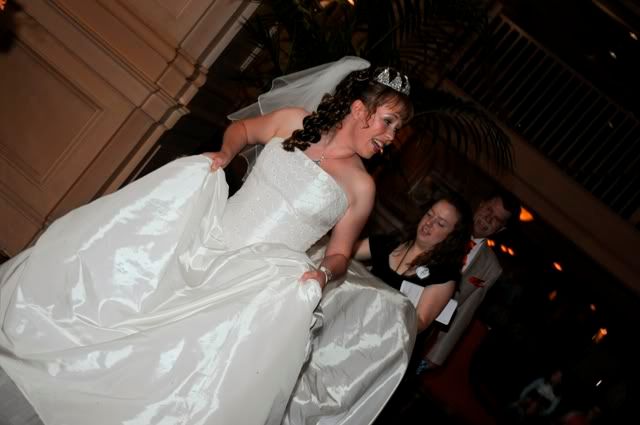 I even had Diane's lovely assistant helping with my train. She was brilliant. In the photographs above I think I was thanking people for their congratulations in the lobby.
Nearing the doors of the lobby, I saw it. Even now, typing this I
actually have tears welling up in my eyes. You cannot imagine, how that one piece of equipment can make you feel. It
was there, in the drive, waiting for me. Waiting for us. Waiting to
take me to make my dreams come true. I looked at my dad and he had tears in his
eyes. I've only seen my dad cry a few times in my life, and those have
been very bad times indeed. I knew how he felt now. For me, all of the bad
times and all of the sad times seemed like a lifetime away.