Our Walt Disney Fairytale Wedding (Series): August 2nd…Continued.
I was so happy with Gavin's surprise but I was even more happy because
for months I had planned a surprise of my own for him. It had been
difficult but finally it was arranged and we headed to EPCOT for lunch
at the Coral Reef. I had heard mixed reviews, but let's face it, I was
there for the diver and so I knew that would make it special anyway.
We went to have a little play with the sharks (I'm a shark nerd) before we went in…
We went on the Nemo ride and without flash tried to take a picture. It
would not turn out well, we knew, but what annoyed me so much
was that the people in the next clam had the most enormous flash that
they pressed continually. They must have take about 50 photos on that
ride between them so I could not even see the rest of the ride, all I
could see was flash after flash. So rude.
To calm me down, Gav dragged me off to see the Nemo sharks…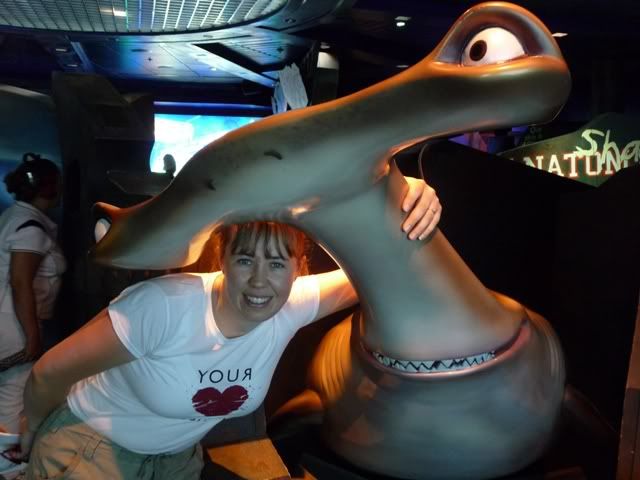 We found the Coral Reef restaurant and checked in.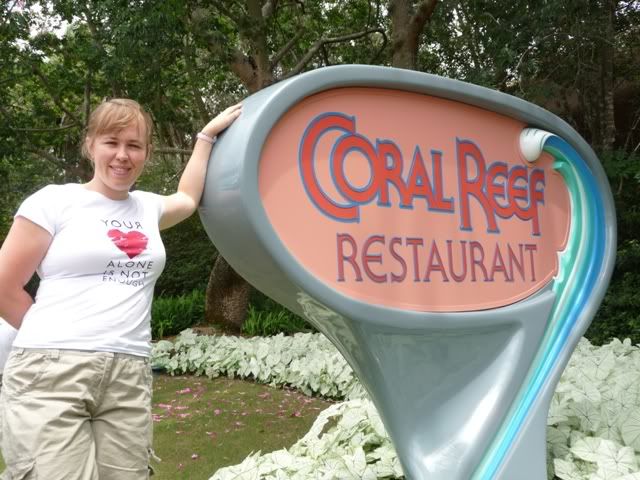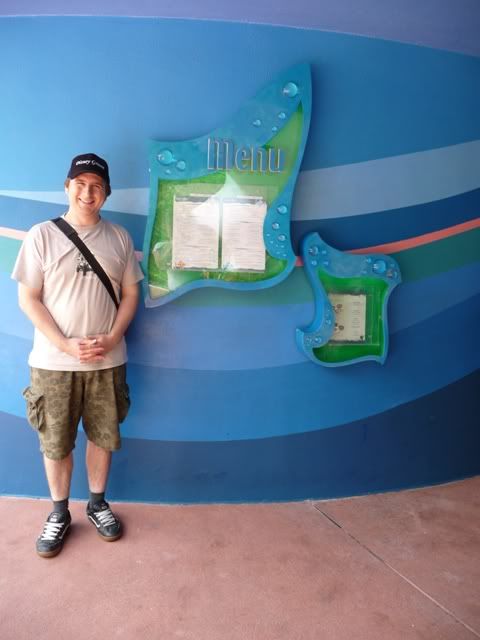 We were guided
towards the sofas and I was petrified that things would go wrong as I
had heard so many times that people did not get their sign with the
diver or whatever. So I made an excuse to go to the bathroom and on the
way literally slunk against the wall to get back to the reservation
desk. I checked that things were set and they were just lovely there.
I returned to Gavin who was oblivious and had no idea that they even had
divers at this place, and soon after we were asked to follow the
server to the restaurant floor.
We were holding hands and I was grinning from ear to ear, as the server
led us to the front of the restaurant and seated us by the tank! I could
not believe our luck!
Our server came over and congratulated us and gave us these… I loved how they had done them!
Gavin was so baffled but absolutely delighted, I have never seen him so surprised!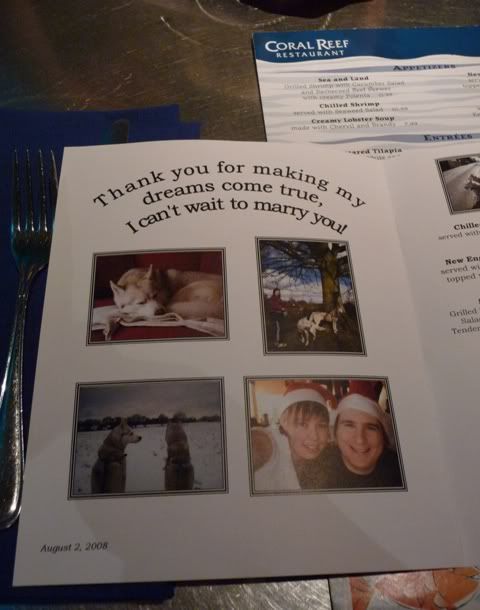 We took a couple of shots of the aquarium…
As we sat there, an extra guest floated in, right next to us!
Then our server comes over with free champagne!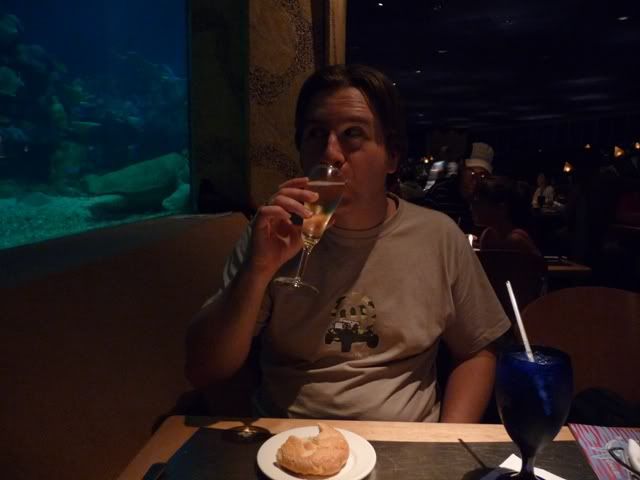 We ordered our meal and were patiently waiting for our New England Cod
Cakes when I saw bubbles at the back of the tank. The turtle had swam
away and I had the most strange, tense feeling in my stomach. Was it
the diver? I was panicking in case this didn't go well ~ would I give
it away, would I not get the camera ready? I made up some story about
thinking I saw an eagle ray or something and when I saw him get close,
Gavin had his back to the diver and people started pointing to the
aquarium.
Gavin turned around, and there was….
Everyone was cheering in the restaurant and we went
quite pink!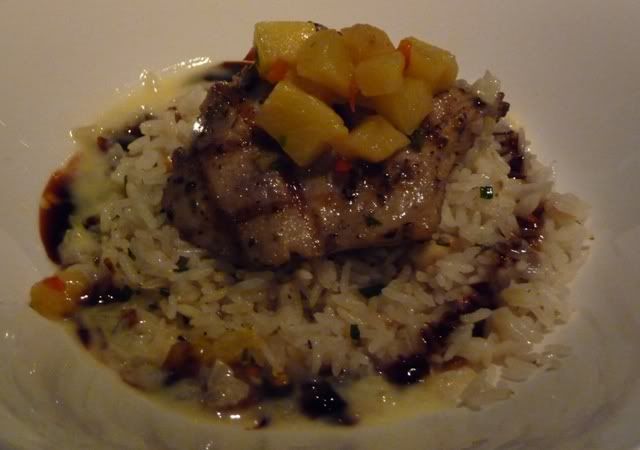 Our meal was simply delicious and then our turtle returned! He sat right next to us.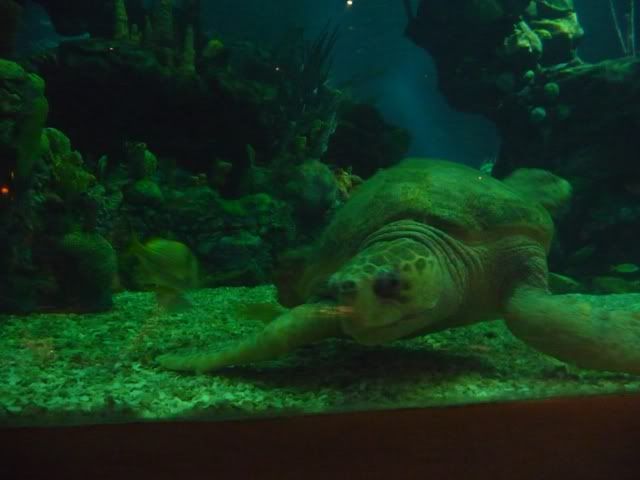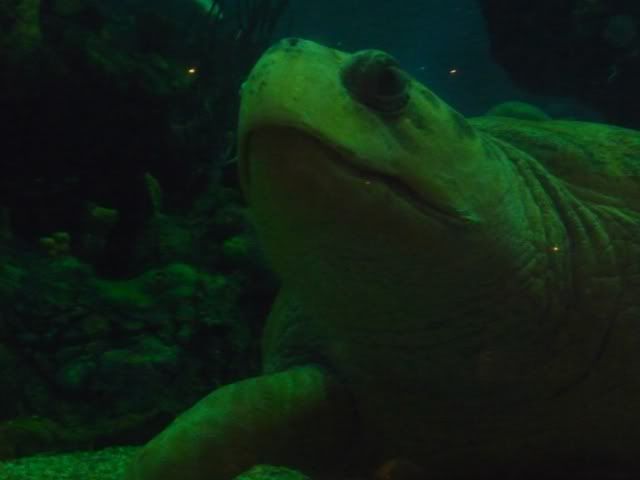 h
I've never seen a turtle so close before.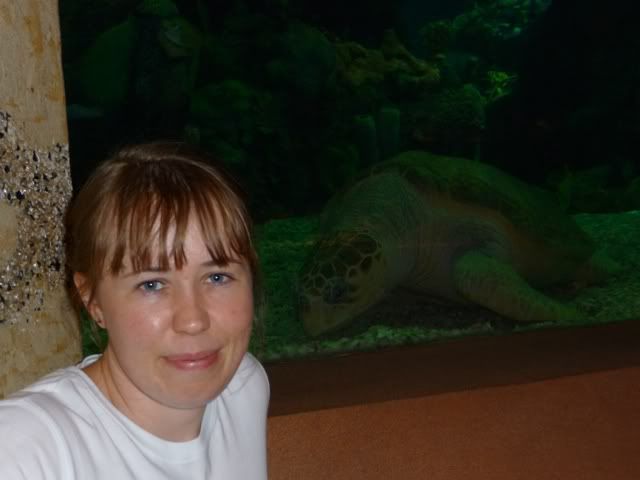 Our turtle did a little swim…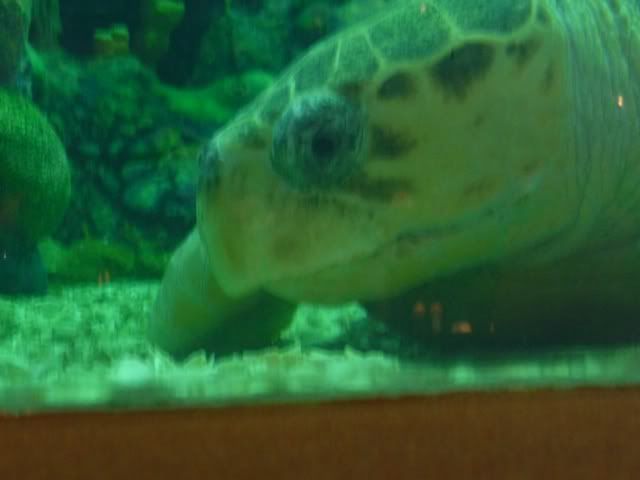 …and came back again!
As dessert time rolled around, Gavin ordered Key Lime Pie, and this was to be the benchmark of all Key
Lime Pies throughout his time here. I think he would go back to the
Coral Reef just for the pie!
I had a fruit sorbet thing with a seahorse wafer!
We finished up, took a few more photos and left, totally and completely delighted.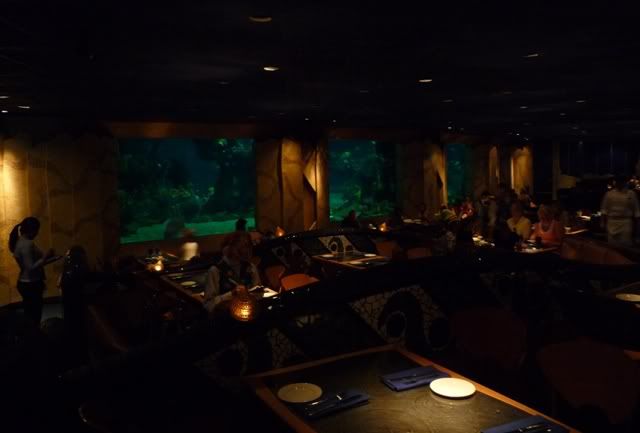 We headed back to the Boardwalk for some Wedding preparation…