Our Walt Disney Fairytale Wedding (Series): August 4th (Groomsmen Fitting and Fire!)
We made it back to the Yacht Club to find this little guy…
I love towel animals. I just love them. I wish I could make them, but I'm too clumsy.
As the wedding was fast approaching I decided I had better check to make
sure my bridal things were in place and ready to go. I banned Gavin
from looking in any of the drawers or cupboards ~ I had kept everything a
secret for nearly 2 years, I wasn't about to fall at the last hurdle.
I started to pack Gav up to move him out of my "Bridal Boutique" and
into his own "Bachelor Pad" for his last night as a single guy, and mine
as a single gal!
It was about that time that we heard something. Something loud. The
fire alarm. There was this recording telling us to get out! At that
point I was trying to work out the money for paying different people and
my sister had given me her money for the Tusker House and so I had
nearly $1000 in my paws! So I left the hotel with Gav and we trotted
down the fire exit stairs with the rest of the guests and out of the
back entrance to sit and wait. He called me Scrooge McDuck and kept
yelling "grab the money and run!"
All I could think about was the groomsmen fitting (which was
scheduled to take place in the next half hour) and that I was rich, at this point in time.
Then I felt an immense sense of relief that my dress wasn't in the
room. We sat outside in the sunshine and talked to a family with a
little boy who loved Thomas the Tank engine and decided to tell Gavin
everything he knew about Thomas and friends.
Seriously though, we had no idea what to do. So, we took off our shoes
and had a paddle in the swimming pool, and then walked around the back,
trying to figure out if there was a way to get to the front of the
building without going through it, in case Carolyn Allen's had arrived
and were wondering what was happening.
After about 20 minutes, we were let in to trek
up the fire escape again. We headed back into the lobby as the elevators were out of use due to
the alarm, and we met Carolyn Allen's there. They were not happy about
having to take everything upstairs as it would be difficult without and elevator and so I
went to see if the Yacht Club had another room. They found a conference
room we could use but in the meantime my dad and brother in law had divided
up the suits, found Gav's dad, brother and brother in law and
decided they would just carry everything.
Anyway, then they started to get ready.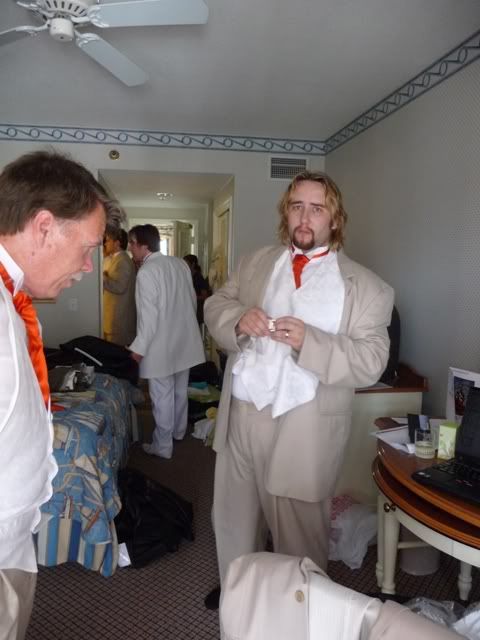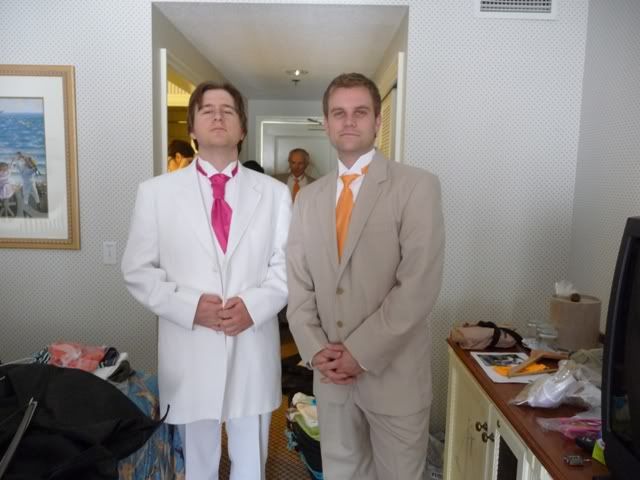 The groomsmen including Gav all had the Mickey Mouse backless vests and I thought they looked awesome.
My dad, above, with his newly acquired socks from Gavin.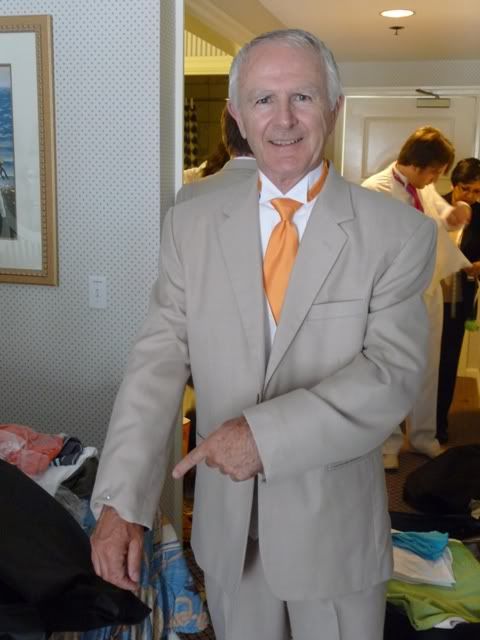 Gav's dad, posing for posterity. Nearly everyone needed alterations and
so I am glad we had the fitting and didn't leave anything to chance.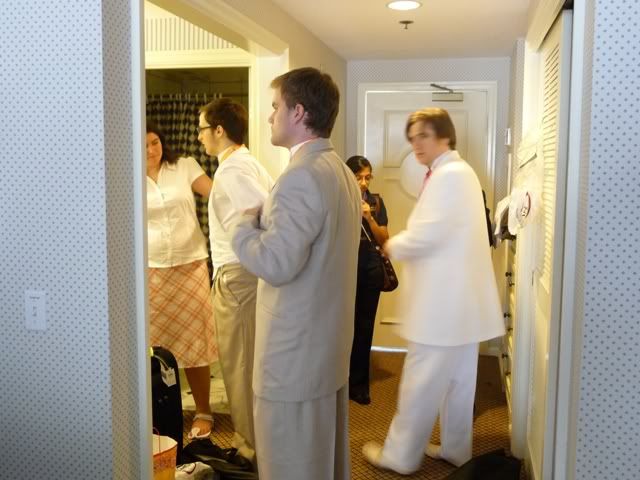 Everyone crowding into the mirror.
Gav's brother and our best man, Garth.
Dave kept me happy and hassle free with the CORRECT tie on.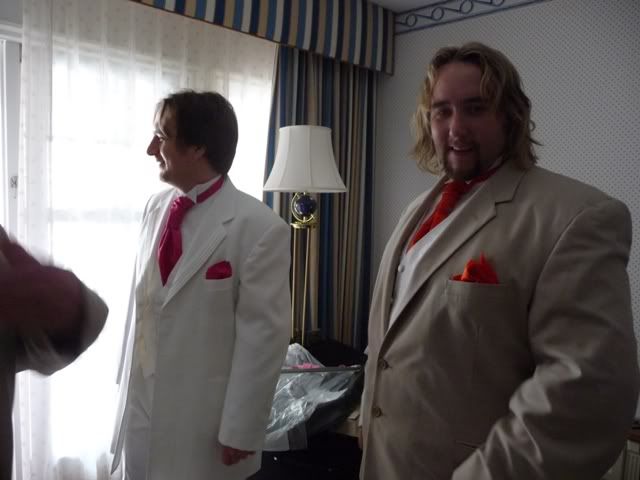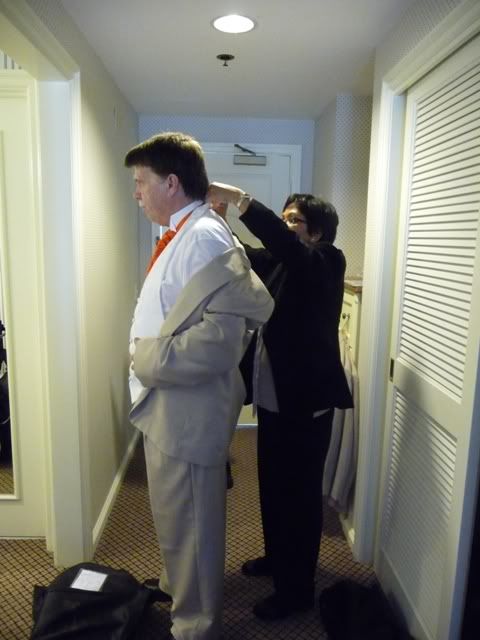 My dad, who was pretty sure after his fitting that he was the most handsomely dressed in the room…
All of the clothes were fitted properly…then it was time for the rehearsal!