Our Walt Disney Fairytale Wedding (Seies): August 3rd…The Bachelor/ette Party…
That night was our planned bachelor/ette party and we had a meal at the
House of Blues booked; then we were to go to Pleasure Island, split
up and Gav and the men were off to The Adventurer's Club whilst the
ladies and I were supposed to go to 8trax as I had wanted to for so long.
We had all arranged to meet at the House of Blues and so we changed and headed off…
Gav thought I looked so lovely he took my photo!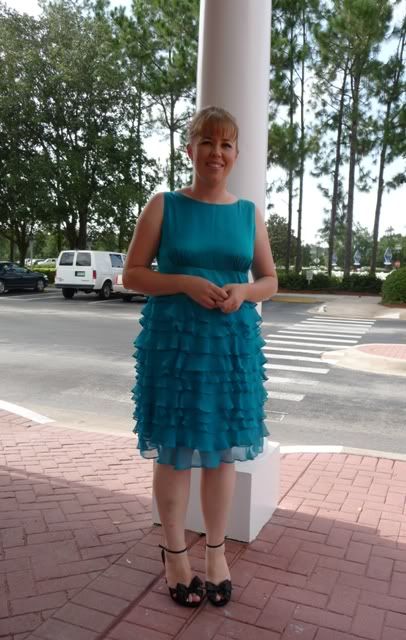 Gav was dressed as an adventurer. His last name is Jones, he just
loves Indiana Jones and has done since he was a child. The first thing I
bought him was an Indiana Jones hat in Disneyland Paris and he bought
it with him on our trip (see below). We also sponsor a crocodile at Australia Zoo and so they sent us shirts for there. They're
now wedding-ified.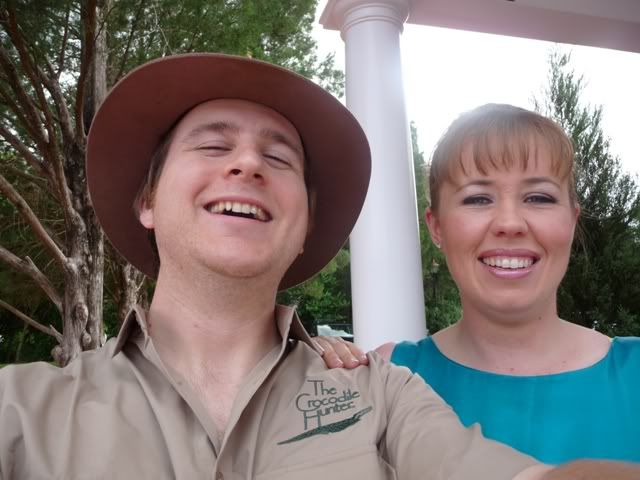 We tried and tried to get a normal picture of ourselves as we waited for the DTD bus…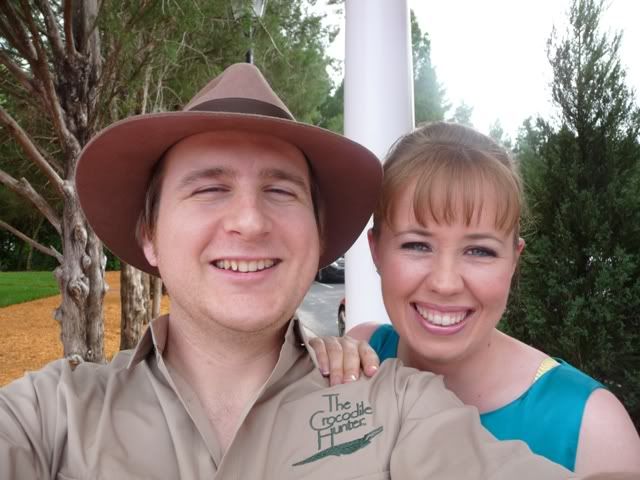 One bus later, we arrived first at the House of Blues and took some photos. Gav and I
are huge Elvis fans and so this was the natural choice of venue for for us.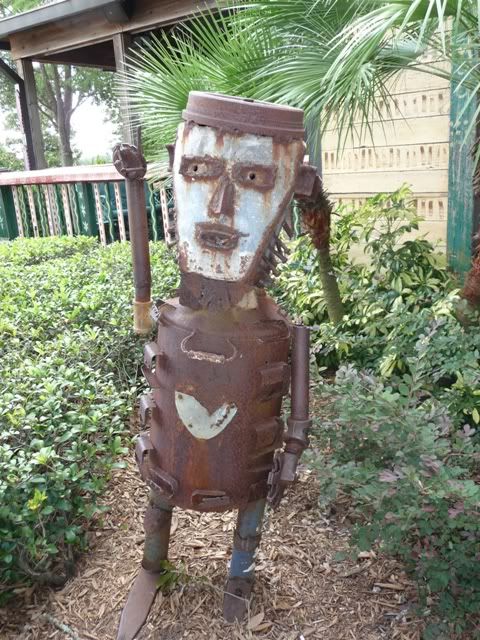 I go inside to check in and find Melissa and Robert, who already found
my parents despite having no idea what they looked like. We went out to
the patio to wait for the others. My sister wasn't coming as she was
coming to 8trax instead. My dad and Dave were babysitting and my mum
and sister were coming out with me.
Anyway, we all chatted outside…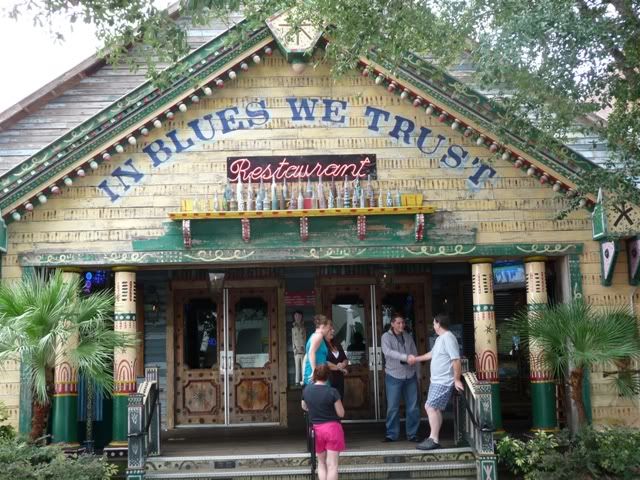 Eventually everyone turned up, and we went inside…
We all go in and they take us to the back of the restaurant where
there are two tables. Gav sat with his family and I with my parents
and we ordered our food…Catfish nuggets!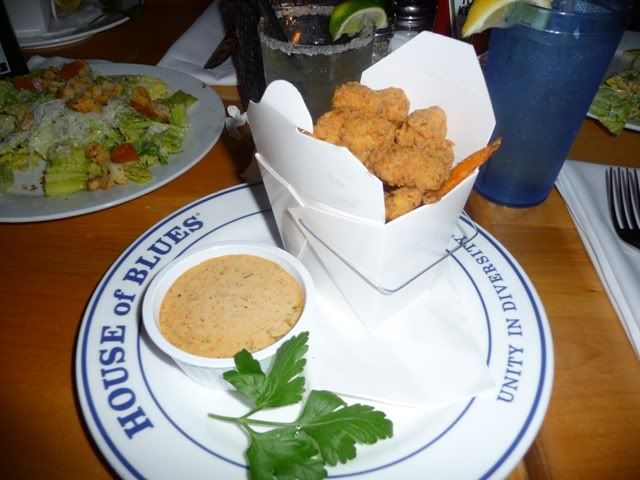 My mum also had them and was surprised at how delicious they were!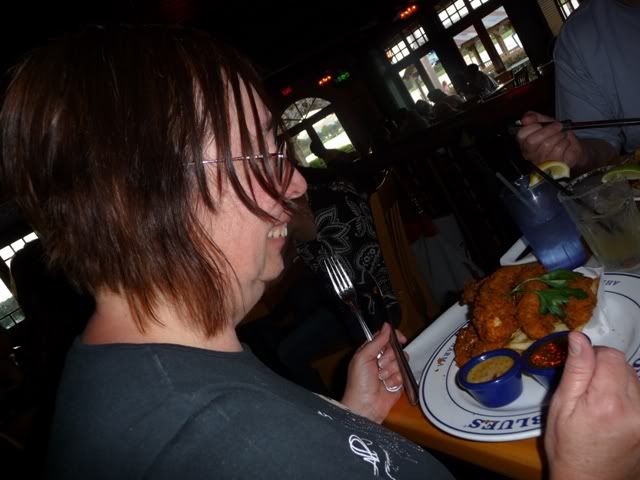 For our entrees, Dad had the steak…
Robert was delighted with his I think!
So was Melissa! The conversation was so funny on our table but I cannot remember at all what it was about…!
Sam perched on the end of our table…
I had the jambalaya which I could not finish ~ and so did Gav, behind me! I ended up with this… which we gave away!
Anyway, we were finishing up the meal and paying the bill, and I was
saying goodbye to Melissa and Robert as they had their floral meeting at
home the next day. On the way out I stopped to take a photo of Gav's
parents.
And some strange statue:
Then they took one of us…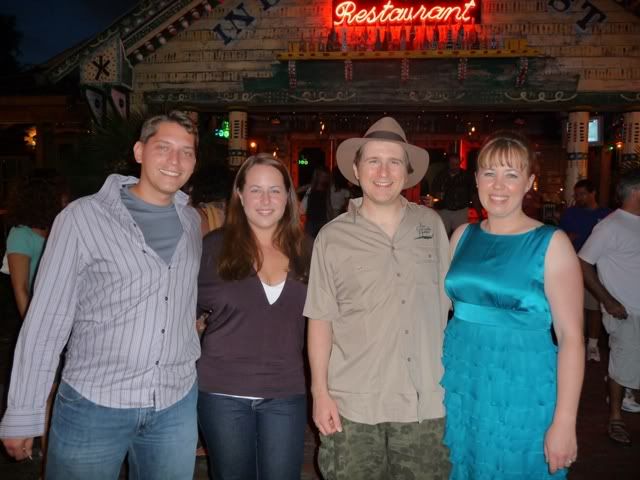 We walked through to PI and I waited for my penfriend (and bridesmaid)
Andrea and her husband Michael who were coming for the evening, and my
mum and sister. Andy and Michael turned up and later on my mum and
sister, but in the meantime Gav went ahead into the Adventurer's Club
with his dad, brother in law, brother and his girlfriend.
We hung around outside before my mum and sister arrived:
To cut a long story short, Gav's menfolk decided they were too tired and
he was left with his dad and Michael. I had no idea and was in 8trax
dancing with Andrea, my sister, mum and mother in law to be, when they
showed up! After larking around on the dancefloor, and Andy and I
making up some dance like we should have done when we were teenagers,
thousands of miles apart…but drinking various cocktails too.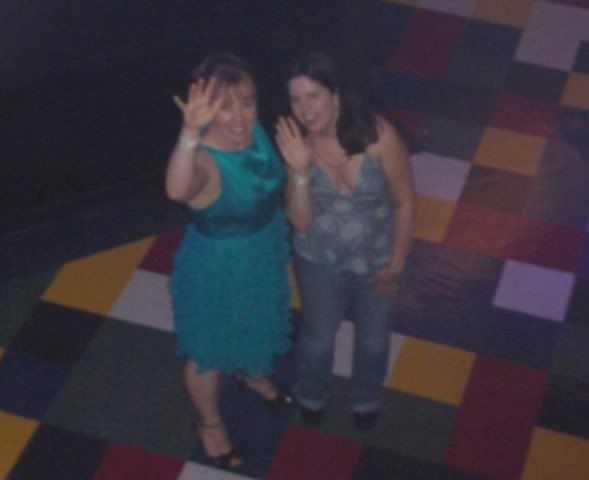 Me and Andy!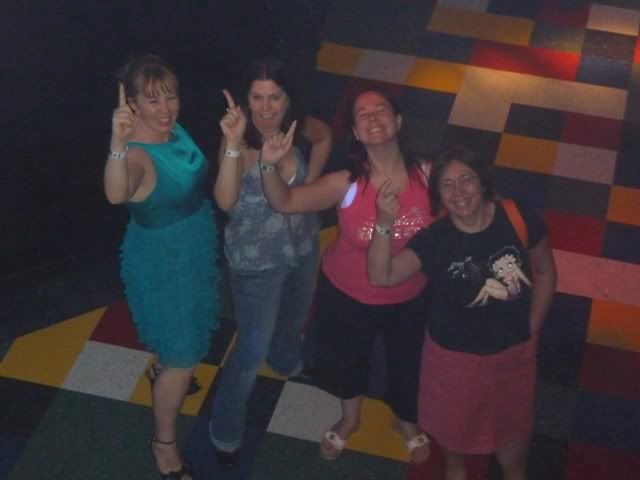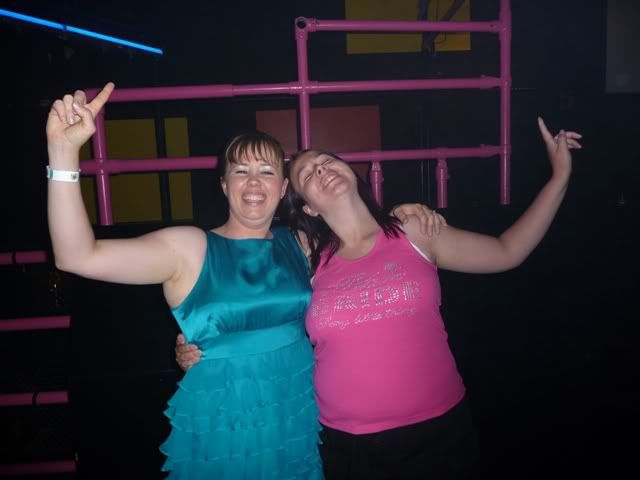 At around midnight, only Gav,
Michael and Andy and I were still standing. Gav showed us some of his photos of the Adventurer's Club. Little did he know, we'd stalked them in there to see what it was like for ourselves!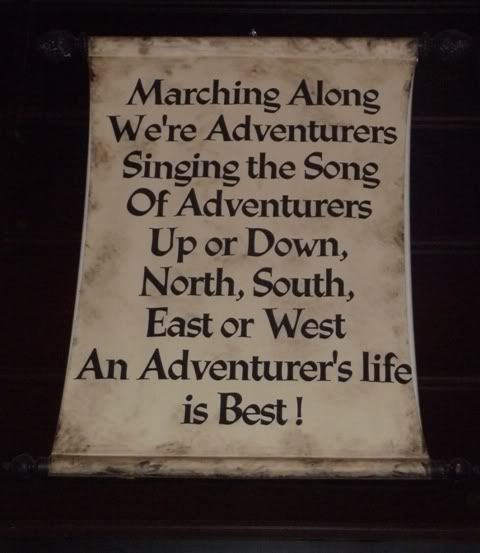 Back to the dancefloor, I took my enormous heels off to dance to
"Footloose" and was tracked by the Disney Security as a risk (as opposed
to the woman who was completely drunk and nearly mounting the man she was molesting on the dancefloor). The injustice, just like in Footloose….
Together we continued to boogie (and hobble) the
night away. My heels were enormous but comfortable ~ yet try
dancing for hours in them and they aren't as comfortable as you'd
like…
I have NO idea what I was doing here, although I had drank 3 cocktails
and 2 lemon drop martinis by this point. Not being a drinker at all for
nearly 4 years, I think I held up pretty well.
I think I may have thought I was Michael Jackson…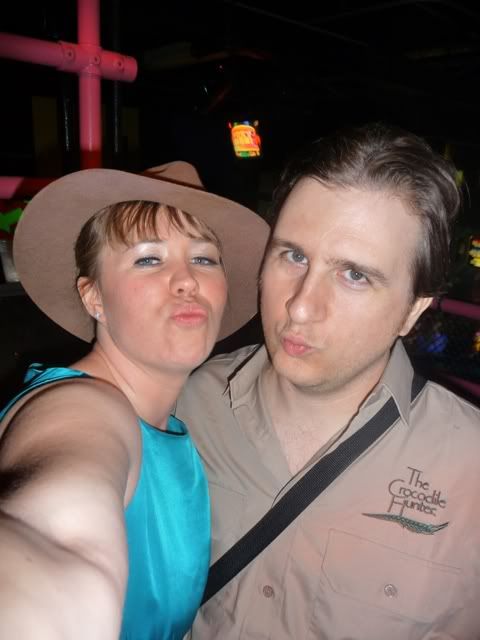 I have no idea who took this.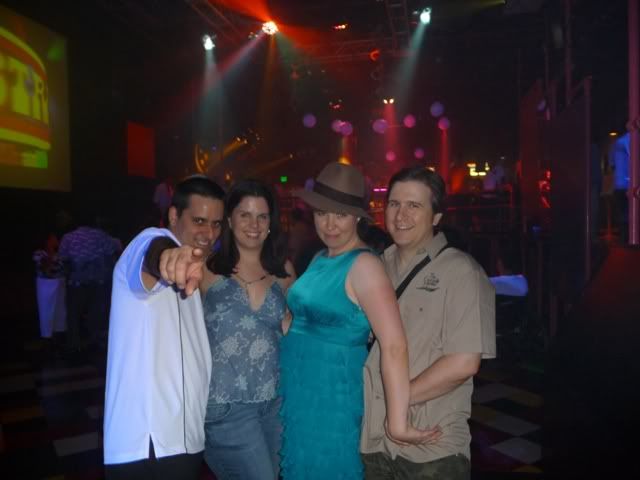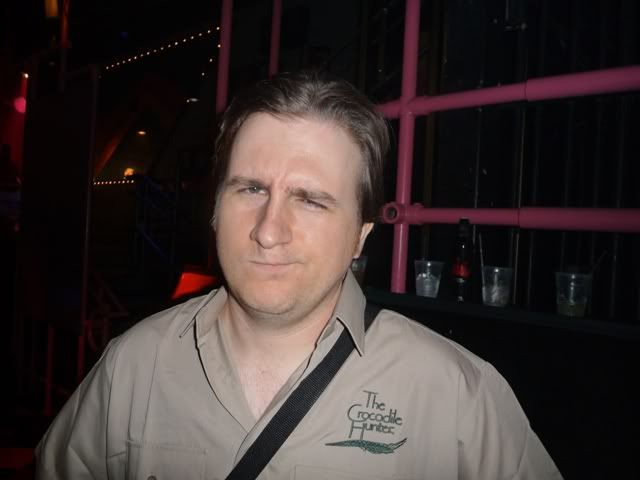 Andy and I had a light saber fight…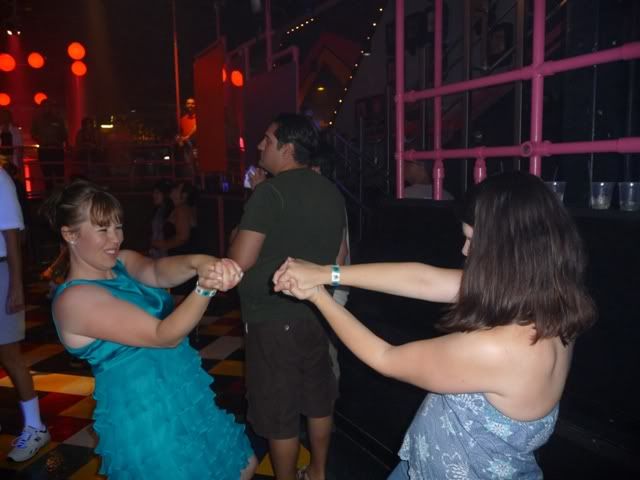 …and tried to get relief from our heels by leaning on things…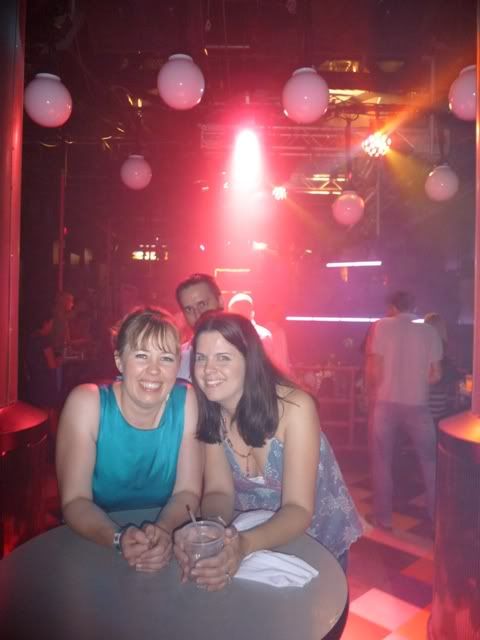 We left the club about 2am, into an empty Pleasure Island. Shoes off time ahoy!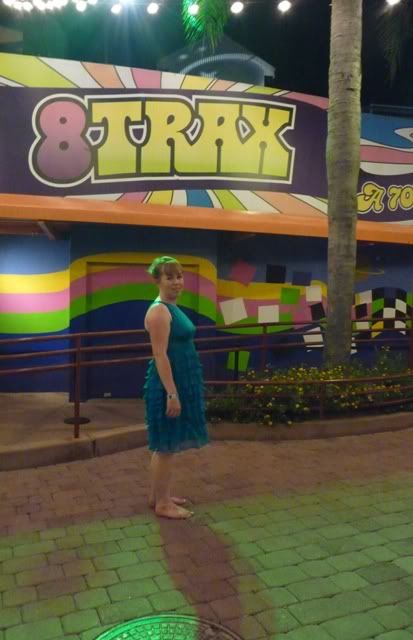 In a change from my Michael Jackson pose, I switched to my hero, John Travolta.
My loyal bridesmaid. I've known her for 27 years. We became penfriends when I started school
and my friend had a bunch of letters from children at an American school
who wanted penfriends (remember we were five, we wrote like 5 words a
time). I
picked the letter that was in pretty coloured writing, Andrea's, and we've written
ever since. I visited her in 1986, she came to England in 1991 and we stayed with
them in February 2008 during our planning session. I love her dearly and I'm so thankful that I found
such an amazing friend in her. We've literally grown up together, but miles
apart.
We've shared so much over the years. I
can't imagine life without her. When we were little we would talk about
our weddings and how we would be each other's bridesmaids ~ and I got
to make my dream come true. This night was so special for me because we
never got to go out dancing as teenagers or as young ladies in our
twenties, and this was our chance.
I will never, ever forget this night.
Or the Kung Fu fighters…
Gav outside his "planned" location… My very own Indiana Jones.
The long walk home…
Bright lights!
This was the last photo I took at Pleasure Island before we returned to
the Yacht Club ~ and it was Gav's favourite. I stopped taking photos
then, realising that I would never, ever beat this shot…without getting smacked in the face.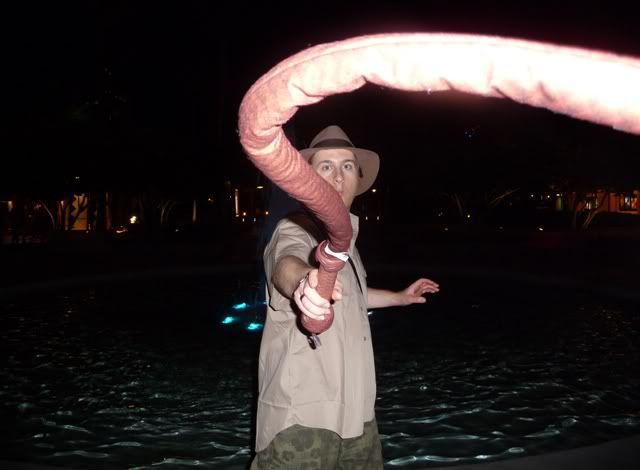 Gavin *Indiana* Jones, in action.
We arrived back at the Yacht Club and stumbled our way to the room. We
weren't drunk and collapsing everywhere, I hasten to add, we were just tired and
delighted. I drank enough water to sink a small ship and Gav had one
glass. Note here that I TOLD HIM to drink as much as he could handle (again, water, not alcohol).
So, we opened the door to…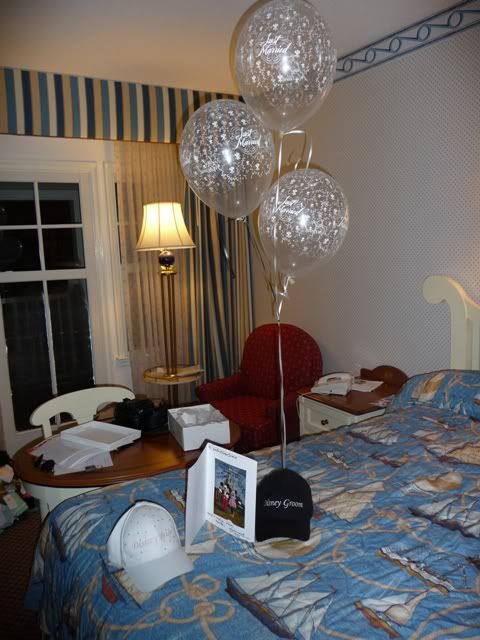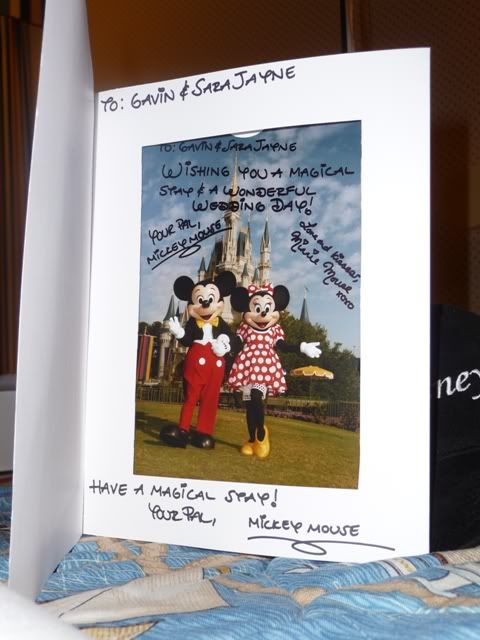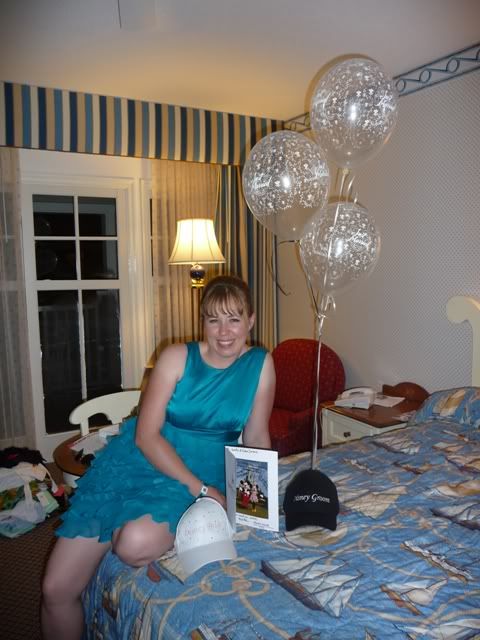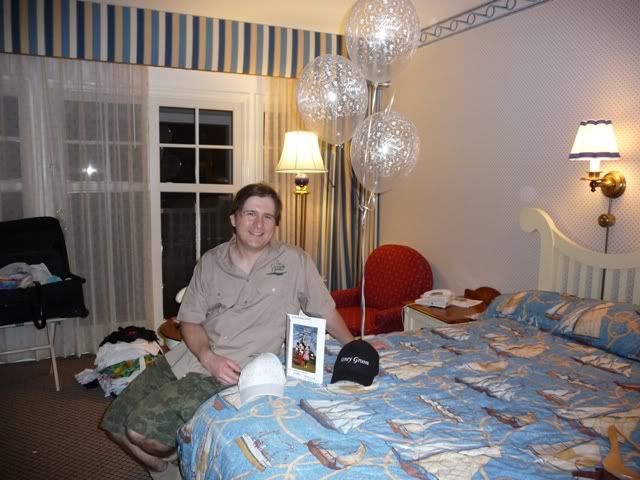 We were so tired and we knew we had to be up early for our rehearsal
breakfast the next day. It was at this point I got "partygoers remorse"
and wondered why on Earth I had a) drank so much and b) stayed out so
late…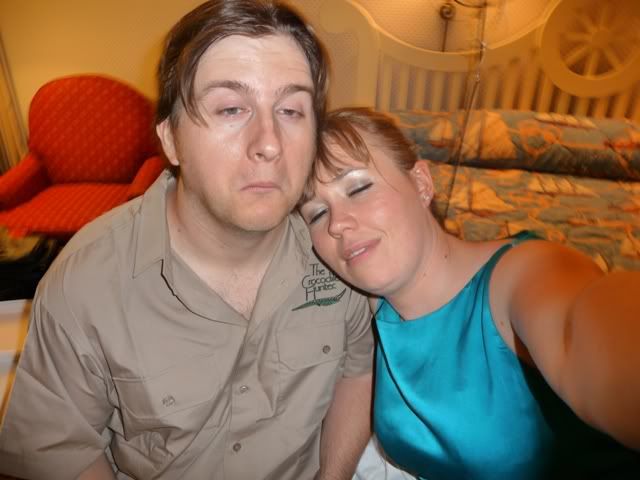 Zzzzz!