Destination Disney: Disney in Black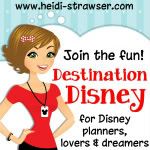 This week I'm linking up to a new party at What's Going On In Heidi's Head? called "Disney in Colour (Color)".  The idea is that the host selects a colour and then we post Disney related photos in that colour.
This week was
black
and I'm starting off tame, just in case I get this completely wrong.
Black Tie…
Black Night Sky…
Black Balloons…
Black Night…(again)
and finally…