Our Walt Disney Fairytale Wedding (Series): Wedding Day Morning (Part II)
After my rollers had been in for quite a while, it was my turn in the chair!
I wanted long hair on our  big day, and so I'd bought a hair piece at a Wedding Show in London, visited my
Hairdresser and Colourist and whilst they blow dried my hair, they colour matched my hair to the piece. I love curly hair, I used to have ringlets as a child. Ana was so delighted the colour match was perfect.  I can only imagine what it would have looked like if I hadn't been to the hairdresser and checked….I thought Ana would just hook it onto a pony tail and that would be it, but she curled all of my hair and wove it in, even I couldn't tell which was my hair and my extra hair! (we took to calling it "the rat" as it was like my pet by the end of the honeymoon).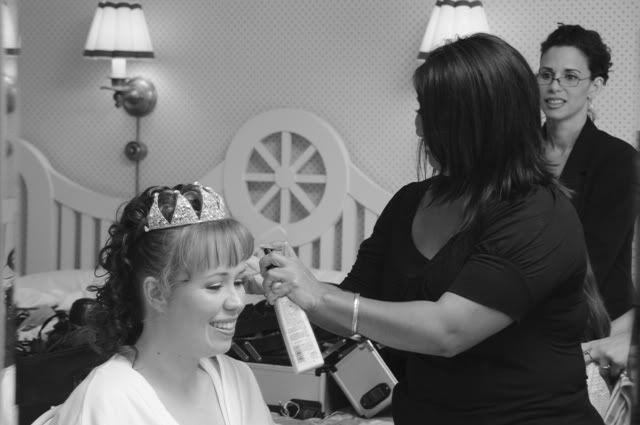 Ana and Lilli were a Godsend.  I laughed all morning with them. I even learned how to say
"dumb ***" in Spanish and I forgot all about any
nerves I should have. They were fantastic. I owe them my sanity on the
morning of the wedding.
Make Up was next…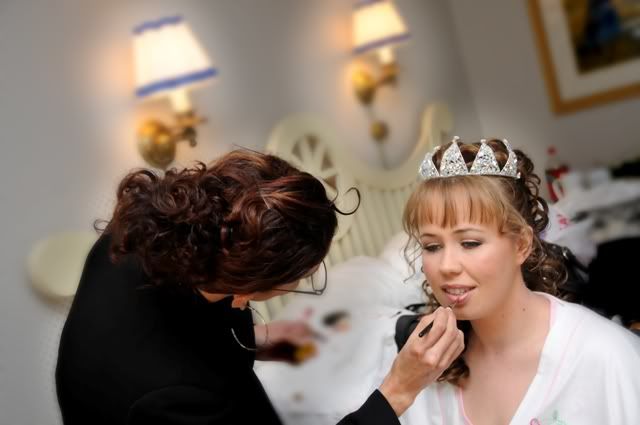 Nearly finished…
When she was finished with me, Ana said "Here She is!" and handed me the mirror.  I was scared.  This was my wedding morning and I'd wished and
hoped for so long (okay, forever) that on my wedding day I'd feel special, that I'd feel pretty, feel like a bride. I know that sounds rather ridiculous at 32, but that was my
wish. So I was scared.Then I got the mirror… and I'm not saying I look beautiful to
everyone.  I looked like a much, much
prettier version of me. I wanted to cry but Lilli threatened me…. So
my smile is genuine in these photos. No staging, no "look happy".
These are my feelings spread across my face. I have never been so happy
to see me in my life.