Our Walt Disney Fairytale Wedding (Series): Wedding Day (The Little Details)
Misty captured some of the little details…
My Earrings ~ these took me so long to find. I knew I needed them to
match my tiara AND my Cinderella necklace. In the end I found these 4
days before we were due to leave, and they were small and perfect.
Our Disney Fairytale Wedding Watches.
I bought this at a wedding show even
before I heard about them. I saw a sign saying "Disney Jewellery" and headed right over. I settled on the Cinderella necklace. It was big and
bold and I fell in love instantly.
Originally I went and bought a Vivienne Westwood Limited Edition perfume
from Selfridges as I wanted something special but then I realised that
not only might I smell unfamiliar to Gavin but also the perfume I
generally wear, Coco Chanel, was so special to me that I needed to wear
it and feel like myself.I wear Coco by Chanel because when I was 16, my granny said she would
buy me my first perfume and this was the only one that didn't make me
sneeze. I love it, and it reminds me of my granny.
I also attached little photos of my boys, Casanova and Excalibur, to my
bouquet with ivory ribbons, and also a picture of my late Granny and
Grandad with my mum when she was little. I had no photo of my dad on
there because I didn't need one, he was right by my side. With these
little photos, I managed to walk down the aisle with my dad, and with my
mum, huskies, granny and granddad in my "heart".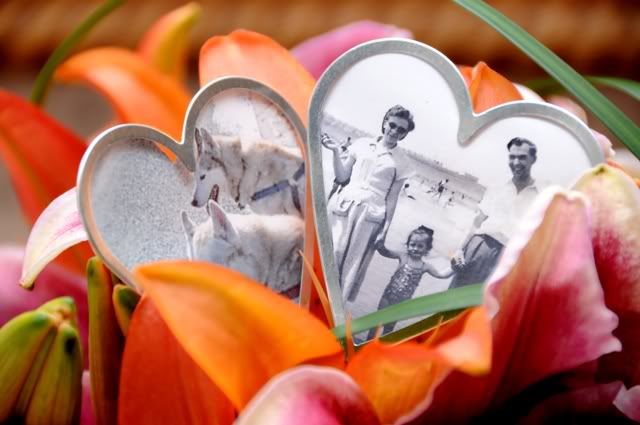 The ring I chose was made of topaz and diamonds and it doesn't look like
a regular wedding ring as I wanted a very pretty princess ring. I used
to play a game called "Rings on Your Fingers" when I was a little girl
and it was a bunch of yellow plastic rings which you picked up and tried
to match to the pictures on your card. On the yellow plastic were
drawings of rings with different coloured stones and they were just
beautiful to me as a child. My ring was like one of those, just not yellow plastic.Later in the honeymoon, Gavin took me to Tiffany's to buy a gold band to wear every day, too.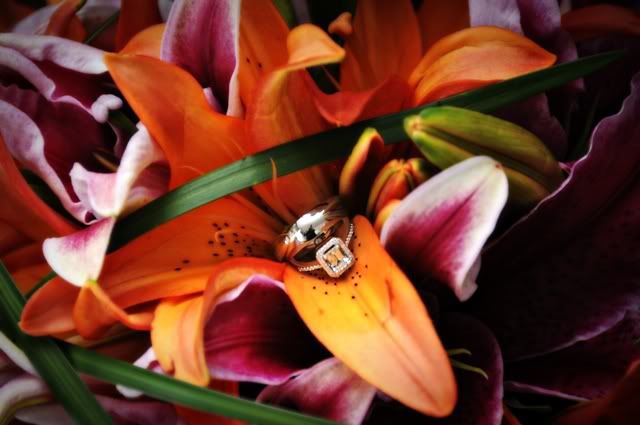 I got my Swarovski Cinderella bracelet. When it first arrived and I tried it on with my dress, I felt like a
rapper as it was so large and sparkly! At my last dress fitting I
managed to figure out how to remove a link in it and I tried it again
and it was perfect. So I wore it and fell in love with it.
Here is my sand ceremony bottle. It's on my bookcase now, sparkling
away at me. My dad had this blown for me at a local craft centre.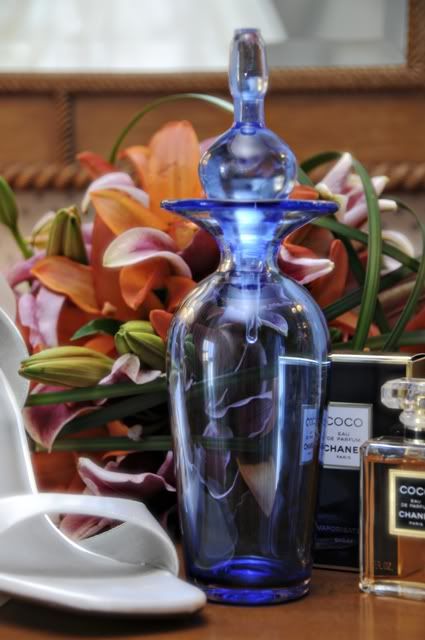 My garter I love. I could not find one I really loved and then I found a
burlesque performer in New York who makes them, and she made me a set
of little accessories too.