Our Walt Disney Fairytale Wedding (Series): August 1st Continued…Again.
If you missed the last instalment, click
here!
We arrive back at the Boardwalk, soggy, and find this. In case you've never stayed in Disney before, these are "towel animals" (or a doll in this case) that Mousekeeping leave in your room for you to find. They're just so fun to come back and hunt for after a day in the parks.
Anyhow, it was so close to our photography time and we
were just soaked and looking awful (as you saw in the photos before).
We called Nathan (Root) and explained and we decided to reschedule for a
few days later. Pressure off, we took some photos of the room…..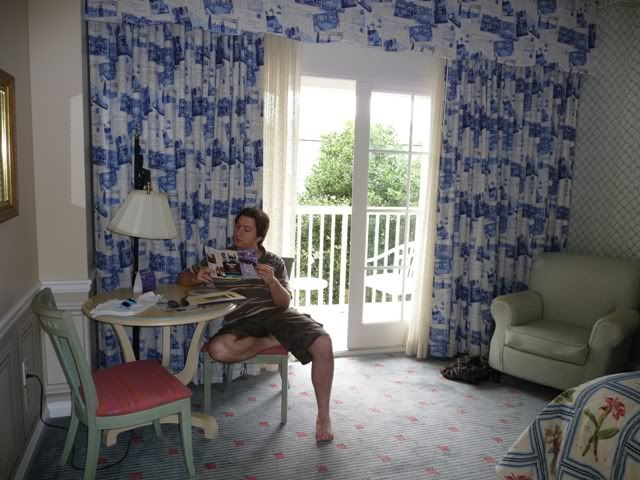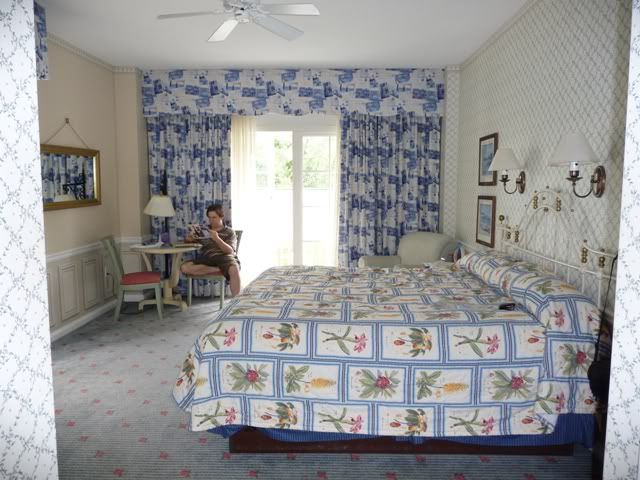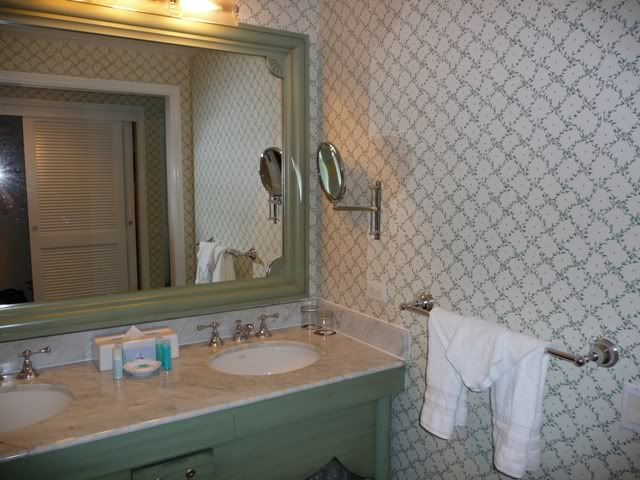 The Boardwalk is just gorgeous. The decor there is just my taste. I would have yoinked those curtains had there been a) enough room in my suitcases and b) anywhere for me to hang them at home.
A little later after unpacking some things (but not too many was we were
hotel hopping like crazy whilst we were here) we sorted ourselves out as we had evening
reservations at Fulton's Crab House in Downtown Disney, and then we were meeting
our American friends Melissa and Robert later at Goofy's Candy Company to make our wedding
favours.
Fulton's Crab House was also somewhere I was a
little nervous about as I have never liked crab. Or lobster. I decided
that this was the best place to try and change my mind (and the least likely to poison me) and so I got our
ADR well ahead of time.
We arrived at DTD and found Fulton's really easily. We were seated by a
very bouncy server and she was just wonderful. Her name was Ashley and
she took excellent care of us
.

We started off with cocktails. Mine was a toffee apple martini.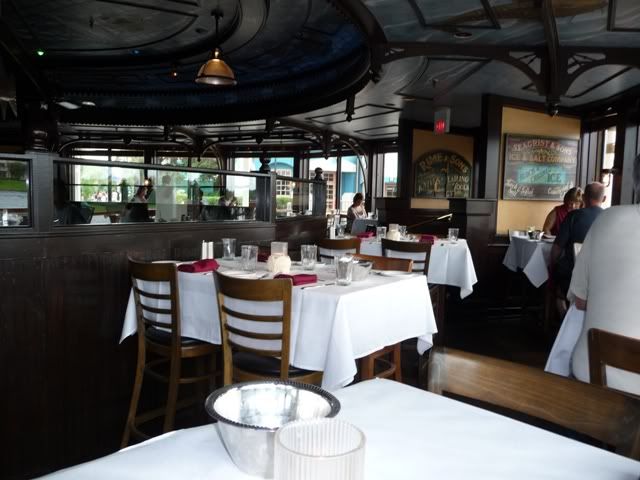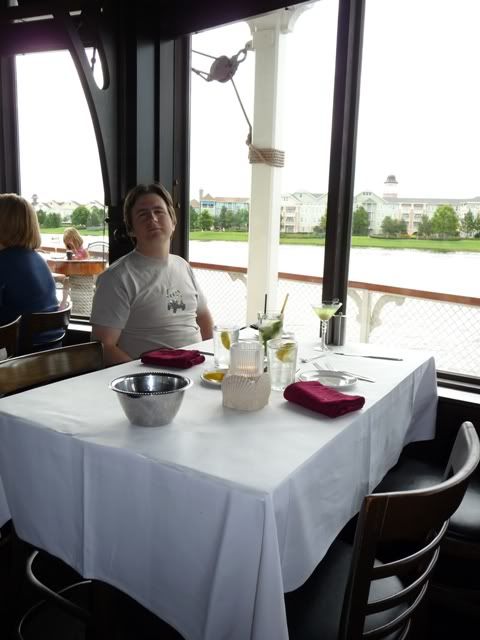 We had a fantastic view from our seats and Ashley went through the menu with us. We decided that we
would try oysters here as we were sure that trying them here would be
the safest place in the World. Not a great risk of being poisoned.
We ordered one of each kind and they arrived at the table…
The Oysters…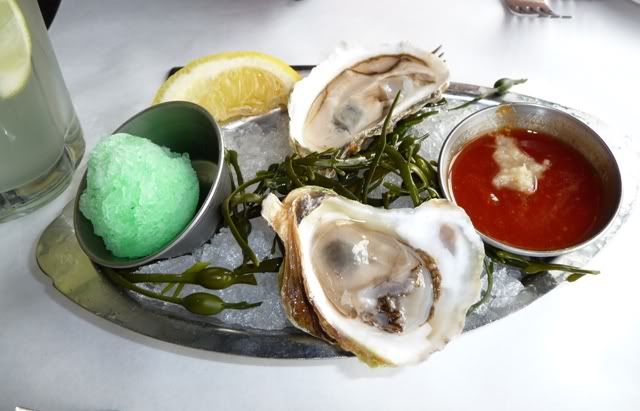 So they were sat there on the table and we looked at them like they were
creatures from outer space. Ashley told everyone around us that we
had never had oysters before and suddenly the restaurant was very interested
in us! There was a sauce and wasabi ice with the oysters and it looked
very, er, nautical. And nasty.
Gav whipped out the video camera and said "you first!" I was mortified ~
all of these people were looking at me and cheering! I picked it up
and the family behind Gavin said to just let it slide in and then
swallow, NOT to chew. I did as I was told, bucked up my courage,
knocked it back and swallowed! It made me shiver and squiggle, but I did it.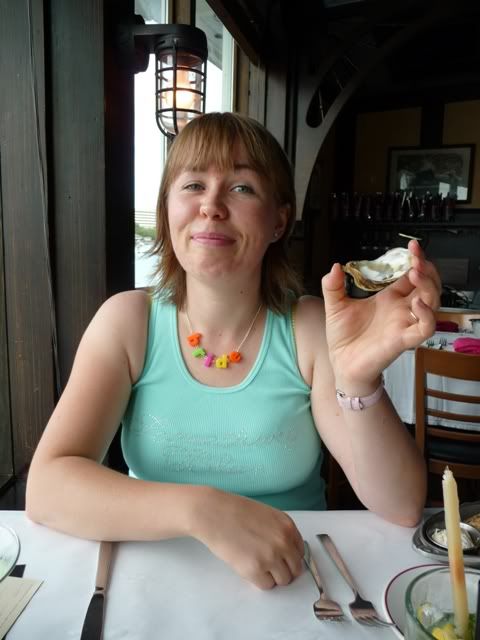 I was so proud of myself!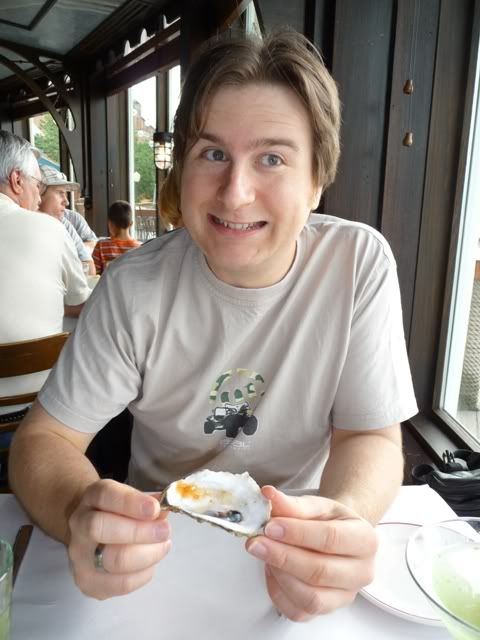 Then Ashley brought us some special dip and crackers, they were just
amazing. They even give out little cards with the recipe on.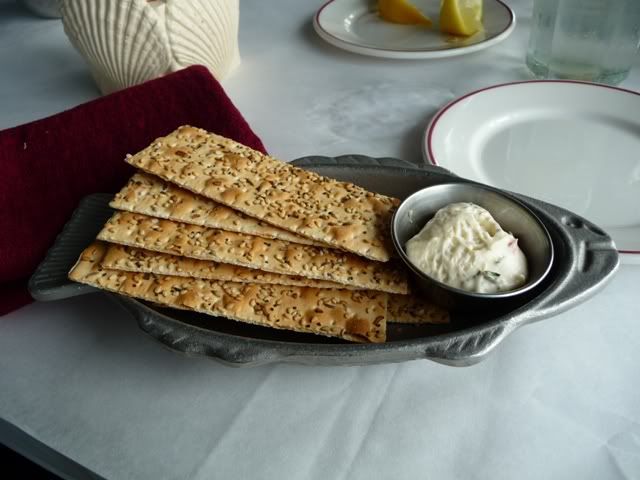 We had some other bread aswell but Gavin noticed that there was the
whipped mix condiment instead of butter or margarine and he recalled the
"error in judgement" when he ate a large mouthful thinking it was
ice-cream on his cobbler in February and gave it the thumbs
down…
Gavin decided after much discussion with Ashley to get the King Crab Claws and I got this lobster so that we could share both.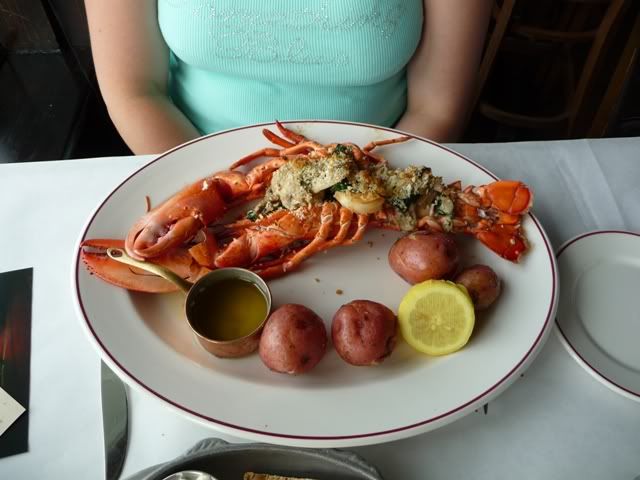 We larked around like children for quite a while. Ashley thankfully came by the
table to explain how to eat the crab and lobster, as I had no idea whatsoever.
Gavin, who always, always orders a more delicious drink than mine, had some kind of margherita…
…and we ate our meal. It was the most sumptuous, unusually and
unexpectedly delicious meal. When I first saw it, I was thinking
"hmm… crab and potato. Is that it?" but it really needed nothing
else! I could have eaten 20 of them myself. To eat them they were
extracted from the claw shell, dipped in melted butter and just eaten. I
miss them just thinking about them.
We decided to try dessert and I ordered the pistachio brulee.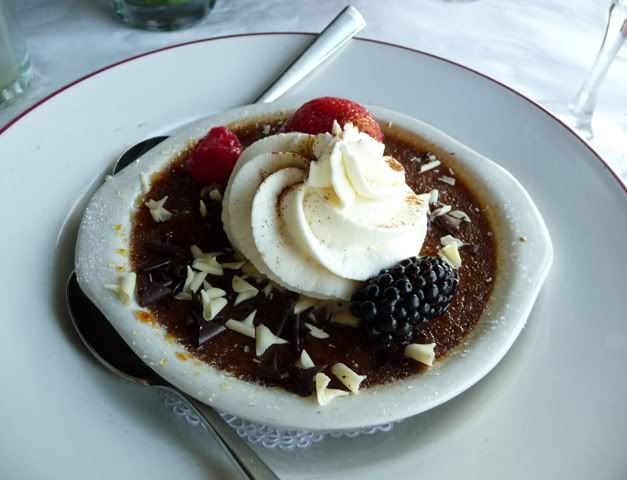 Gav decided to have another cocktail instead, a "dessert" cocktail as he
called it. We are not drinkers at all at home and so we decided to try
cocktails on our adventure, as many as we could, in truth.
Meal over, we went onto the deck of the Crab House after paying and it was getting a little darker…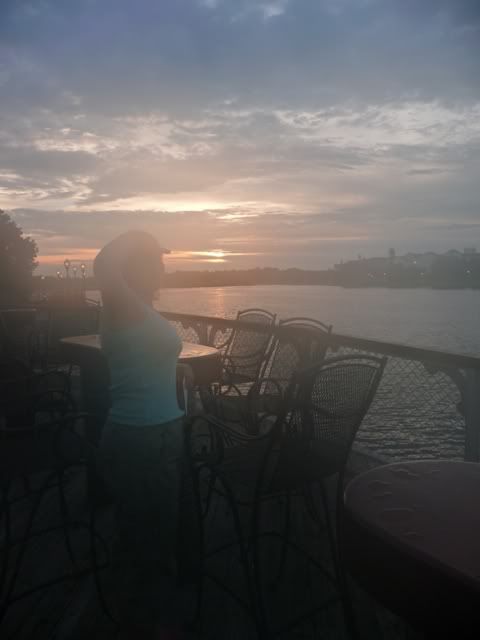 We bid farewell to the Crab House (or Crab Shack as Gav was calling it) and headed over to Goofy's to find Melissa and Robert.