Our Walt Disney Fairytale Wedding (Series)… August 5th: Wedding Day Morning…. Part I
So, a very, VERY small number of hours later, at 3.30am, I woke up
courtesy of Mickey and Stitch and my sister and I sprang into action
(when I say "sprang", I of course mean slowly and groggily fell into
action). I showered, she showered, we were all clean, and I got my new
dressing gown on over my
matching pyjamas..I was all set. I was ready for action (more so than before). I was
ready to get married! The day that I had been waiting for my whole,
entire life, was here at last!
I decided to make a little video for Gavin to watch
later, like a documentary. We watched Seinfeld together for quite a while before the wedding trip and got
hooked. Gav would be "Pennypacker" and I was "Vandelay".
Anyway, our video started with the line "Hello, Pennypacker" and my sister and I could not stand up for laughing so hard.
At 4am there was the knock at the door and there were Ana and Lilli and a
lady whose name I have no idea of. They chattered and laughed their
way into the room and set up.
At that point there was another knock on the door, my mum to check I was
awake and okay. I told her I was fine and she said she would pop back in ten
minutes. So the door closes and then knocks again ~ I felt like a
doorman! It was Andy and her family. So relieved, I asked her if she
would mind having her hair done first and of course she was happy to
oblige. She's a star, and even though she had her four children with her, she couldn't help enough.
Now this next part made me so happy. My mum never ever has time to take
care of herself and is usually helping people out so much that she never
feels beautiful in herself. So when Ana and Lilli got to work on her
she was more than a little nervous. I told her to trust Ana and Lilli,
and they made her laugh constantly. They also made her so, so pretty.
Just like she deserved. My mum just loved it. The colours they chose were perfect and her hair
looked amazing.My mum, star that she is, went back to the room to get my dad sorted and said she would be back to check on me shortly. Andrea finished having her hair done, and so did my sister and my two
nieces, Chase and Dylan. Dylan sat like a statue. Her hair is so short
and yet they were able to not only curl it, but put it up! I guess that's why the Disney celebrities love Ana…even Simon Cowell!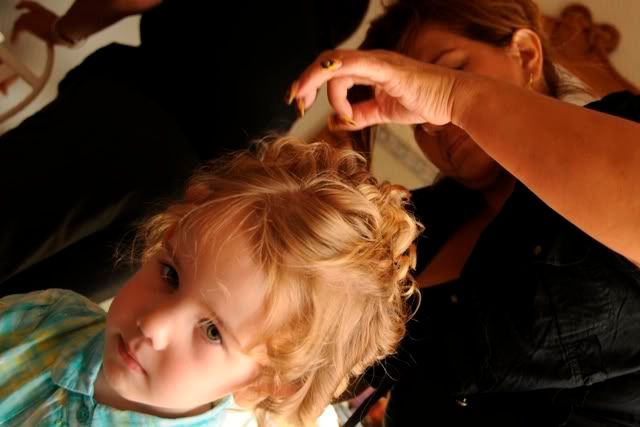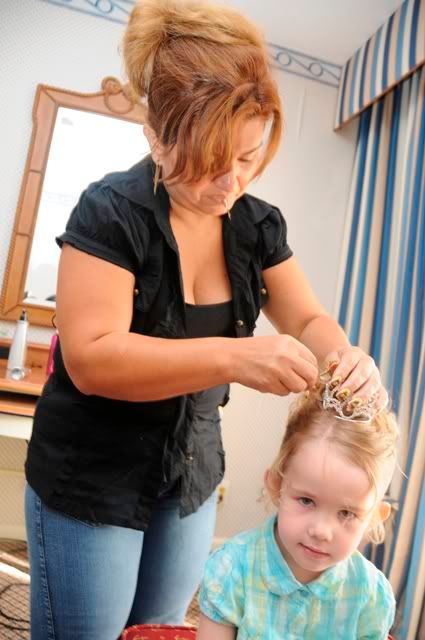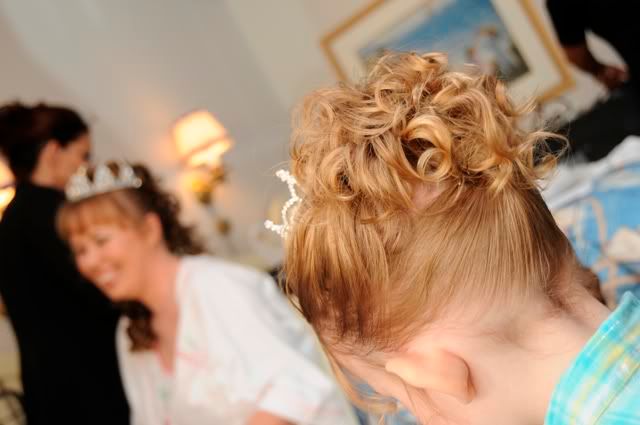 Eventually it was about to be my turn in the chair, and Lilli was starting to
decide where to seat me once my rollers were in, when someone else in the
bridal party decided that after already having their hair and make-up
done, they wanted something else doing to their hair.
I just breathed
deeply. We then had an upset over room service (I ordered some as
someone asked for it then decided they would eat in their own room
instead, leaving me with the bill) and I was starting to get a little
annoyed.I sat there getting more stressed and hungry until Andy poured me some Lucky Charms which I ate very
carefully as Lilli had applied my make up and was threatening to kill
anyone who came near me. The room was complete madness. Ana was
screaming "Someone take a picture of her with her Lucky Charms!"