Our Walt Disney Fairytale Wedding (Series): Wedding Day (Getting Stuck)
The goosebumps began, the footladies came to help me out….and my fears resurfaced again. Imagine falling head first from the carriage! Imagine getting wedged in the carriage door! Imagine ripping your dress on the carriage! Imagine tripping down the step….It was all flashing before my eyes.
Cinderella never looked like that getting out.The footladies did such an amazing job though, they were so careful with me and made me feel at ease.
I remember taking this time to ask them what the names of the ponies were…
With "Southampton" swelling away in the background, (and me on terra firma) Dad gave me his arm. I laced my arm through, put my hand into his, and squeezed it. He smiled at me. He smiled with his heart. I knew this moment I would remember forever.
Ready to take our first step forwards, we realised just how large my dress was. Dad was terrified of stepping on it (he stepped on my mum's during their first dance and ripped the bottom of it!) and so he had to watch his feet as I took up most of his space.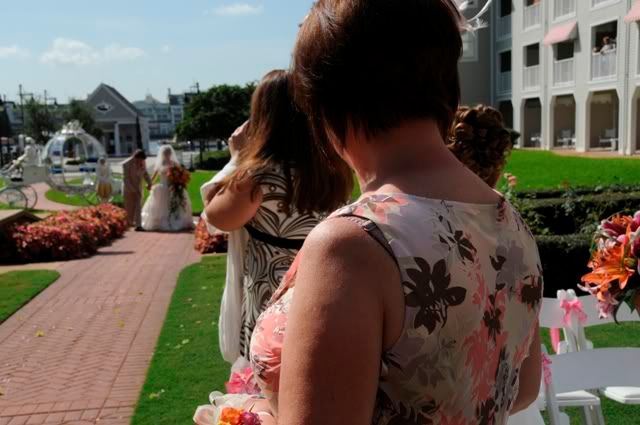 Dad, trying to stay off my dress as Mum watches…
We were finally ready. We went to carry forwards down the aisle. I was ecstatically happy ~ this was MY time to walk down the aisle! No more watching other people and sitting hopefully in the congregation and wondering how the bride got so lucky, no more feeling like the ugly duckling. I was getting to marry my own prince. All I had to do was walk down that aisle.
With my best, baseball pump-encased, crystallised foot forwards, and…..realised it was harder to walk on outside surfaces as there was more friction. I was stuck! I kept seeing myself stepping on the front of my dress, and either exposing myself (heaven forbid) or just making a mess out of the most important walk of my life and stumbling down the aisle, not thinking about getting married but thinking about walking properly. I was crestfallen…and stuck.
I whispered to my dad that I couldn't move. "What?" he asked, "are you okay, do you want to sit down?" thinking I was ill. "No, dad," I replied. "I can't walk in the dress!" I had only ever walked on carpets and hotel floors!
Dad then came up with the best solution, although if there was a camera under my dress, (no idea why that would happen, but even so) they would have seen me doing a toned down, special Disney wedding version of the can-can (or like Basil Fawlty) as I made my way down the aisle.Luckily there was such a lot of material and no feet could be seen kicking away and it looked natural (I like to think), AND it ensured that we walked slowly! I was so determined before the wedding that we would walk slowly down the aisle and not rush it. I wanted to walk like a bride towards my future, not like a sprinter! I walked slower than Steve Martin in Father of the Bride.
Above, me treading on my own dress!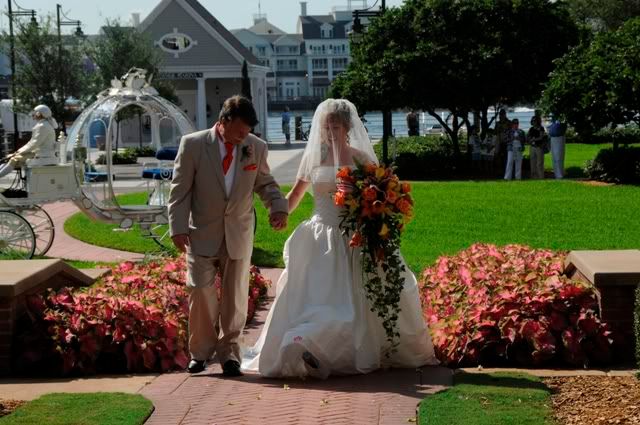 See my foot above? There it is!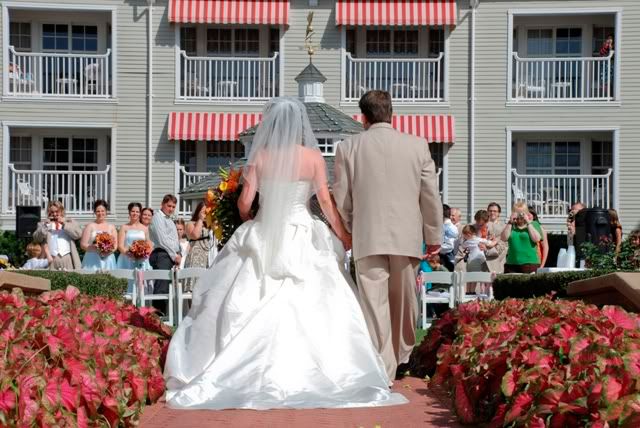 My poor dad was terrified of making a mess and treading on my dress!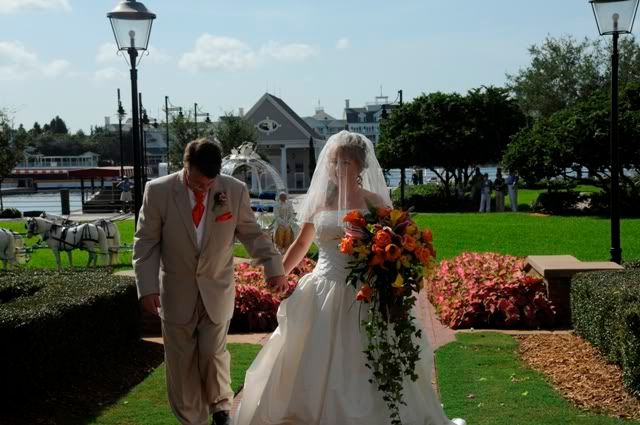 I'm not a person who enjoys an immense amount of attention (or rather, gets it, lol…it's not that I'm modest) and I knew if I felt overwhelmed I would turn my usual unattractive beetroot shade of red and so walking down the aisle I focused on Gavin, and holding tight to my dad's hand. I was complimented by the Army for having a good strong handshake… I felt sorry for my dad.
We smiled and laughed all the way down the aisle to the gazebo. It was the happiest, most wonderful walk I will ever take, and I did it with my dad holding my had, my husband in front of me and mum, grandparents and my boys (huskies) safely in my hearts.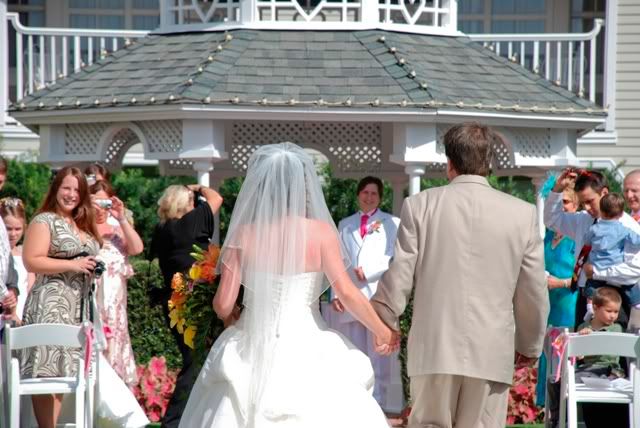 My sister and her husband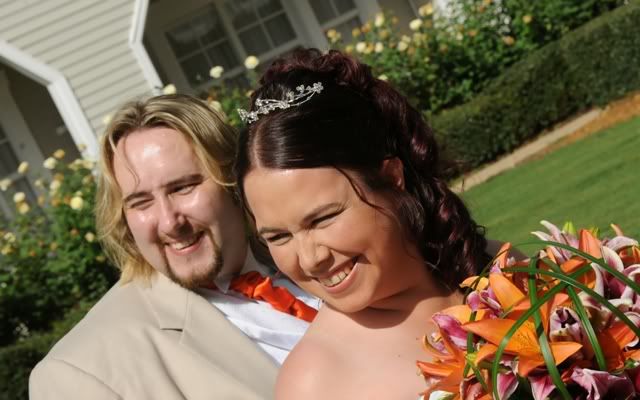 I nearly forgot (naturally)…. Here's the photo of Gavin arriving on site and greeting his public…without a carriage.